Semiconductor Equipment
300/200mm Wafer Auto Switching

new


Load Port


Smart SELOP-7

NEW Series LOAD PORT
200mm Wafer is also available to
300mm Wafer LP by just setting Open Cassette Adapter.One Configuration Available in Both 300mm and 200mm.
Features
1

300/200mm Wafer mapping function (No Change Required)

2

Preventing mechanism for wafer protrusion.

3

Safety lock function to keep adapter door close when wafer is being transported.
Able to Identity Automatically
300mm Wafer FOUP or 200mm Wafer Open cassette
Automatically changes Load Port parameter and notify to Host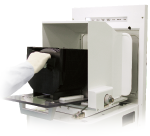 FOUP Set

FOUP Remove

Adapter Stage Set

Connector In

Adapter Stage Open

Adapter Stage Operation

Adapter Stage Close

Adapter Stage Dock
Main Sales Products
Products