SINFONIA TECHNOLOGY was established in Japan in 1917 as an electrical machinery manufacturer for ships. From then, SINFONIA has been accumulating wide variety of technology for supporting people's better life. SINFONIA TECHNOLOGY (AMERICA) ,established in April 2014 as SINFONIA group's first sales office in the US, is in charge of sales and promotion of wafer transfer system for semiconductor manufacturing, automotive testing system and cryogenic submerged motor. Also we in charge of supporting of market expansion for SINFONIA group's product.
Clean Transport Equipment (Semiconductor Equipment)More Information
Our clean transport technologies have earned the trust of semiconductor plants around the world.
With a solid track record in the industry, SINFONIA established the world's foremost reputation by supporting important aspects of semiconductor manufacturing, which requires high precision machining and clean transport technology.
Not only our atmospheric transport system but also load port with proprietarily developed N2 purge mechanism, and vacuum transport system are responding to expectations for semiconductor factories around the world.
N2 Purge Load Poat

N2 EFEM

300/200mm Wafer
Auto switching Load Port SELOP-7

300mm EFEM & Vacuum Platform
Contributing to the development of next generation vehicles that are even more environmentally friendly.
EV, HEV and fuel cell vehicles have seen an increase in demand as of late as more people are becoming conscious of their environmental impacts. Each of the world's automakers is now moving forward with the development of new vehicles and novel automotive technologies one after another.
SINFONIA TECHNOLOGY supplies various testing and verification equipment essential to the development of these vehicles. As one of the top suppliers for EV and HEV, our cutting edge verification technologies span from zero-speed control to high speed rotational control and are being actively utilized in the development of next generation vehicles that are even more environmentally friendly.
Ultra-Low Inertia Dynamometer

High Speed Dynamometers

Power Train Tester
Offering a diverse array of ecological equipment for use in various applications, from resource recycling to high efficiency power supply.
Today, energy conservation and resource recycling initiatives are being called into question for various applications in the business world. SINFONIA TECHNOLOGY has commercialized a number of industrial infrastructure systems, including lifting magnets that make handling metals during recycling more efficient, cryogenic motors and high efficiency power generators used in air conditioners for underground shopping malls and large facilities, and submerged motors for transporting liquefied natural gas. We also supply various other products in the segment as well, including ultra-high vacuum melting furnaces that make it possible to develop cutting edge metal materials, which are widely used in various industries around the world.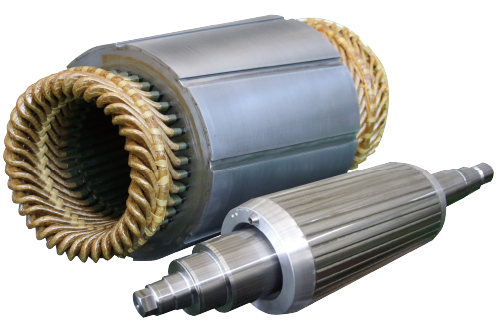 Cryogenic Submerged Motor
Main Sales Products
Products