Features
Operates immediately at power off.

Realized high speed response by permanent magnetic force.

Completely non-contact when brake is released. No wear, noise and vibration is generated when rotating.
ERS-L (for Holding and Emergency Stops)
Backlash-less by plate spring driving.

Flexible mounting directions.
ERS-A(for Braking)
With automatic gap function, there is no need of adjustment after installation.

Heavy-duty operation is possible by high heat radiation capability.
Indication of type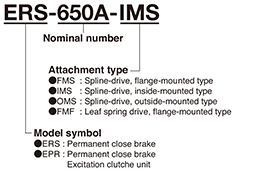 Torque / Rated voltage
Type
ERS-
175L-
FMF
260L-
FMF
260A-
FMS
400A-
FMS
501A-
OMS
650A-
IMS
825A-
IMS
1225A-
IMS
Static friction torque
Nm
2
8
7
20
40
70
120
350
Rated voltage
DC-V
24
Application
For holding and emergency stops
For braking
Structure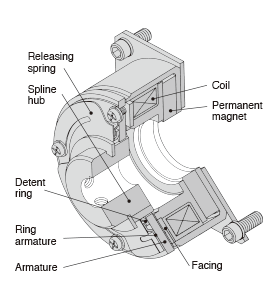 Characteristics
Brake Operating Time
Description/Nominal number
175
260
400
501
650
825
1225
Armature
pull-in time
ta (ms)
10
15
20
30
40
70
100
Armature
release time
tar (ms)
30
40
70
100
100
130
300
Allowable workload / Max speed / Inertia J
Model
Allowable workload(J)
Max speed (r/min)
Inertia J
(kgm2)
at idling
at braking
Armature side
ERS-260A/FMS
1.20×108
7500
7000
1.09×10-4
ERS-400A/FMS
4.60×108
4500
4000
4.73×10-4
ERS-501A/OMS
9.20×108
4000
4000
2.00×10-3
ERS-650A/IMS
1.30×109
3600
3600
6.50×10-3
ERS-825A/IMS
2.40×109
2200
2200
1.33×10-2
ERS-1225A/IMS
4.20×109
1800
1800
7.63×10-2
ERS-175L/FMF
-
10000
-
-
ERS-260L/FMF
-
7500
-
-
Installation Example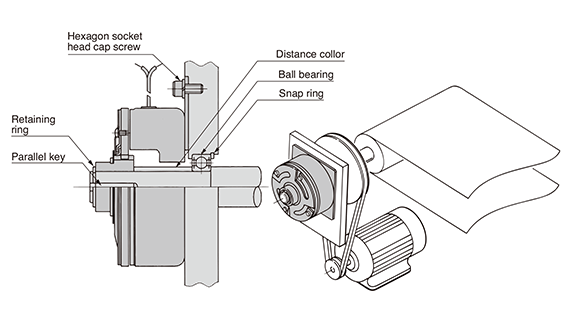 Model list